A New Way of Confinement at KAI Suites
The notion of a postpartum confinement, the period immediately after childbirth when a new mother recuperates and recovers, is one that's deeply rooted in Asian culture, anchored by multiple practices and beliefs that purport to keep both the new mother and her baby in the pink of health. And as with many traditions that have been passed down through generations, it's a time-honored process that few would dare trifle with.
After all, the symbolism of the postpartum confinement is a weighty one. The co-authors of the recipe book The First Forty Days: The Essential Art of Nourishing the New Mother, liken it to "a golden rope, connecting women from one generation to the next".
"This rope of care is long and it is strong; it holds families — and societies — together. Its individual threads are the millions of aunts, mothers-in-law, grandmothers, and neighbors who have, since time immemorial, shown up with soup and clean sheets and a listening ear to serve the woman who has just given birth," the book further elaborates.
It's the system of care that Kevin Kwee, founder of KAI Suites, the first licensed luxury confinement hotel in Singapore hopes to bring a more modern spin to, whilst still staying respectful to the traditions that have come to define the confinement journey.
"It is far more common for mothers in Taiwan, South Korea, and China to recuperate in a postpartum facility. Singaporeans share similar after-birth recovery expectations, lifestyle, and spending power as these markets. Yet, such a facility was lacking in Singapore," he says.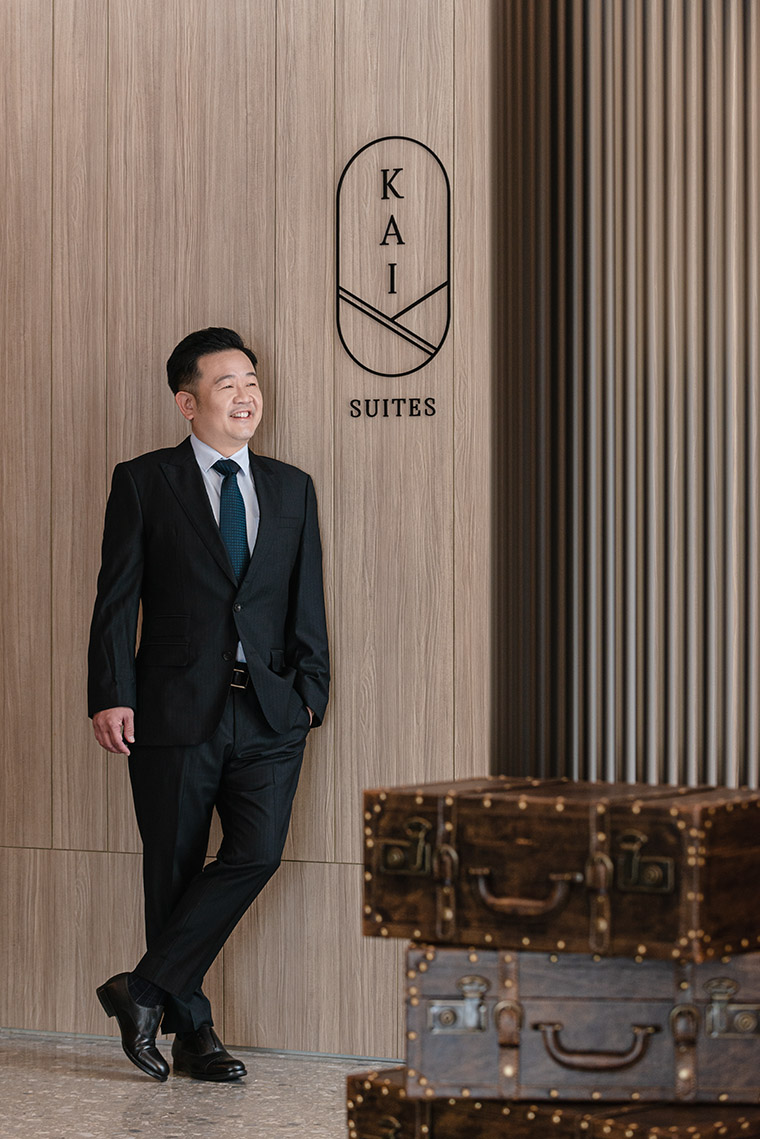 Kevin Kwee, founder of KAI Suites
Kwee, who is a father to four children, is familiar with the physical and mental toll each pregnancy journey took on his wife, and is particularly aware of how conflicts in expectations on how confinement should be carried out could affect family dynamics. He also realized that many local mothers do not fully understand the importance of confinement.
"Many think having their mothers, mother-in-laws, or an experienced confinement nanny to care for them and their babies during the first month after birth would suffice. To others, confinement is just an old wives' tale, when postpartum care should be a vital process for all mothers who have just given birth."
KAI Suites, as such, is where he hopes can provide prenatal education, as well as postpartum recuperation and restoration, "in an environment where the mother can be well taken care of together with her newborn during this golden period".
The pre- and postpartum care that KAI Suites offers, he adds, combines "Asian cultural practices and traditions [with] modern science", and is "delivered by a team of specialists in their respective disciplines".
THE BEST OF EAST MEETS WEST
EMPOWERING NEW MOTHERS
The Best of East Meets West
It's a delicate balance that can be tricky to find. To ensure that he's covered all grounds, Kwee and his team spent more than two years on market research, which involved visiting several confinement centers in the region and consulting experts in obstetrics, gynaecology, paediatric, and experienced nurses in maternity wards on mother and baby care. This translated to a team of qualified nurses with at least ten years of maternity expertise and experience at various private hospitals specializing in pre- and postnatal care at KAI Suites.
For cuisine, various heirloom recipes from around the region were collated from traditional Chinese medicine (TCM) practitioners, herbalists, nutritionists, and local Michelin-starred chefs to form the foundation of KAI Suites' recipe development. From there, under the guidance of culinary advisor David Yip, the hotel's culinary team reinterpreted and elevated these recipes using Asian and Western cooking techniques, locally-sourced and top-quality ingredients and laborious preparation methods.
Finding the regional offerings "more clinical than comfortable and homely", Kwee enlisted award-winning architectural and interior design firm K2LD Architects, which gave the 18-suite space a contemporary, Japanese-inspired aesthetic. Luxurious touches like 600-thread count Egyptian cotton linens, and a shower with a Japanese-style wooden bucket for mothers who opt for the complimentary daily warm herbal bath are the cherries on the icing of this oasis of calm.
THE BEST OF EAST MEETS WEST
EMPOWERING NEW MOTHERS
Empowering New Mothers
"Empowerment" is a term that Kwee uses often while describing his vision for KAI Suites. Much of this empowerment comes from arming the new mother with the knowledge and confidence to take care of her newborn, and allowing her to make choices during her stay based on her comfort level — the latter of which is something that traditional confinement journeys may not be particularly known for.
"It is important that throughout this confinement experience [here], mothers are encouraged, motivated, empowered, and instilled with confidence for their journey of motherhood," he explains.
This means that new mothers can expect things like a personalized menu that takes into account her childbirth method, rate of postpartum recovery, and cultural background and preferences, as well as access to services like individualized massage and aesthetic treatments that help with strength and body confidence. Those who opt for the full works of the KAI Suites Full Experience can tap on the 24-hour expert care of its nurse and healthcare team, or with the Combo Experience, enjoy the help of a daily visiting nurse in the comfort of her own home for two weeks after her initial 14-day stay at the hotel.
Explains Kwee: "The KAI experience embraces the Japanese concept of 'omotenashi', where one provides genuine, wholehearted hospitality; paying attention to every detail to anticipate the needs of each guest to create a memorable experience for both mother and baby."
"The KAI experience embraces the Japanese concept of 'omotenashi', where one provides genuine, wholehearted hospitality; paying attention to every detail to anticipate the needs of each guest."
KAI Suites' focus on the education of pre- and postpartum care is likely also inspired by Kwee's own experience of picking up newfound knowledge for the care of a newborn during the conceptualization of KAI Suites. "There are so many simple and useful pro-tips that we wish someone could have shared with [me and my wife]," he quips.

"For example, it is always too late when a baby cries. When a baby is hungry, he or she will show signs, such as by pouting or moving the lips akin to suckling. After about 10 minutes, the baby will burst out crying if he or she is still not attended to".
Since its official launch in early 2021, KAI Suites has been enjoying a healthy occupancy rate, a confirmation that there exists healthy demand for such a product in Singapore. Naturally, Kwee already has grander plans in the works.
"The next step is to launch KAI Academy, Singapore's first postpartum care training centre where local female Singaporeans are empowered to grow a career in this rewarding industry. We will also launch a range of TCM and wellness-related products for retail, such as lactation bakes, condiments, and sauces, made in-house and from scratch, as well as herbal concoctions and massage oils."
Ultimately, his priority for the KAI brand is clear: "We hope to become the top-of mind and go-to option for pre- and postpartum experiences."
Source Credit: This article originally appeared on Portfolio Magazine by PORTFOLIO Magazine. Read the original article - https://www.portfoliomagsg.com/article/a-new-way-of-confinement-at-kai-suites.html