Chef Julien Royer Gets Personal
It's not every day that you hear about a 40-something chief financial officer of a big company wanting to make a complete career switch and start afresh in the kitchen, but according to an email request that chef Julien Royer received a few days before this interview, that's exactly what happened.
"He said he wanted to cook and I warned him about the long hours," says Royer. "But he says he's ready for the challenge; he was really motivated!"
The allure, Royer believes, comes from the fact that a job in the kitchen is one of the few in the world where your five senses are fully engaged every day, and where it's an "endless exercise in learning" – or as he quips: "The more you know, the less you know".
More likely than not, it is also testament to the name that he has built for himself and his restaurants since moving to Singapore in 2008.
While he's probably best known for bringing his culinary prowess and exacting standards to the restaurants he's headlined at or has a hand in – first Jaan, then his three-Michelin-starred Odette here in Singapore and its sister restaurant Louise in Hong Kong – the affable Royer's personality and life story, front and center at his restaurants, is perhaps what has endeared him most to foodies; he has spoken extensively and effusively about the maternal influence that helped shape who he is as a person and a chef, and pays homage to his grandmothers Odette and Louise by way of their namesake restaurants. His latest restaurant, Claudine, is named after his mother, and in fine Royer form, despite having only opened last November, already has a months-long waiting list.
"When [the concept] is so personal, there is engagement, because there's a certain level of quality that I am responsible for and put my guarantee on; guests come here to experience this quality. The engagement all my guests get from me is the same everywhere, whether they order a cocktail from the bar or have a meal in the restaurant," he explains.
(Related: What's In My Portfolio — Chef Julien Royer)
THE TIES THAT BIND
PULLING IT ALL TOGETHER
The Ties That Bind
Chef Julien Royer is wearing the Blancpain Air Command Flyback Chronograph. Sweater and blazer by Brunello Cucinelli
Across many different cultures, there lies a similar belief that, because of their experience and passion for cooking and feeding their loved ones, home cooks impart an intangible quality and energy to their food that makes it taste exceptional. A certain je nais se quoi, if you will, that makes mom or grandma's food inimitable, never mind that the recipes are never complete and measurements are imprecise.
For Royer, this feeling of being taken care of and fussed over, of comfortable evenings over delicious meals at home with the family, is what he wants to bring to the table with Claudine. Housed within the grand old chapel that the now-defunct White Rabbit once called home, Claudine is one-part casual, laidback vibes of everyday bistros and one-part the precise cooking, good wine selection, and generous hospitality expected of fine-dining restaurants.
"I always thought there was room in Singapore for a restaurant in between the bistros and brasseries and the high-end restaurants. Right in the middle is where we want to be," he summarises. "We have 40 to 45 dishes on the menu, and they are inspired by what I love to cook for my friends and family at home. It's best to experience the restaurant at least four, five times."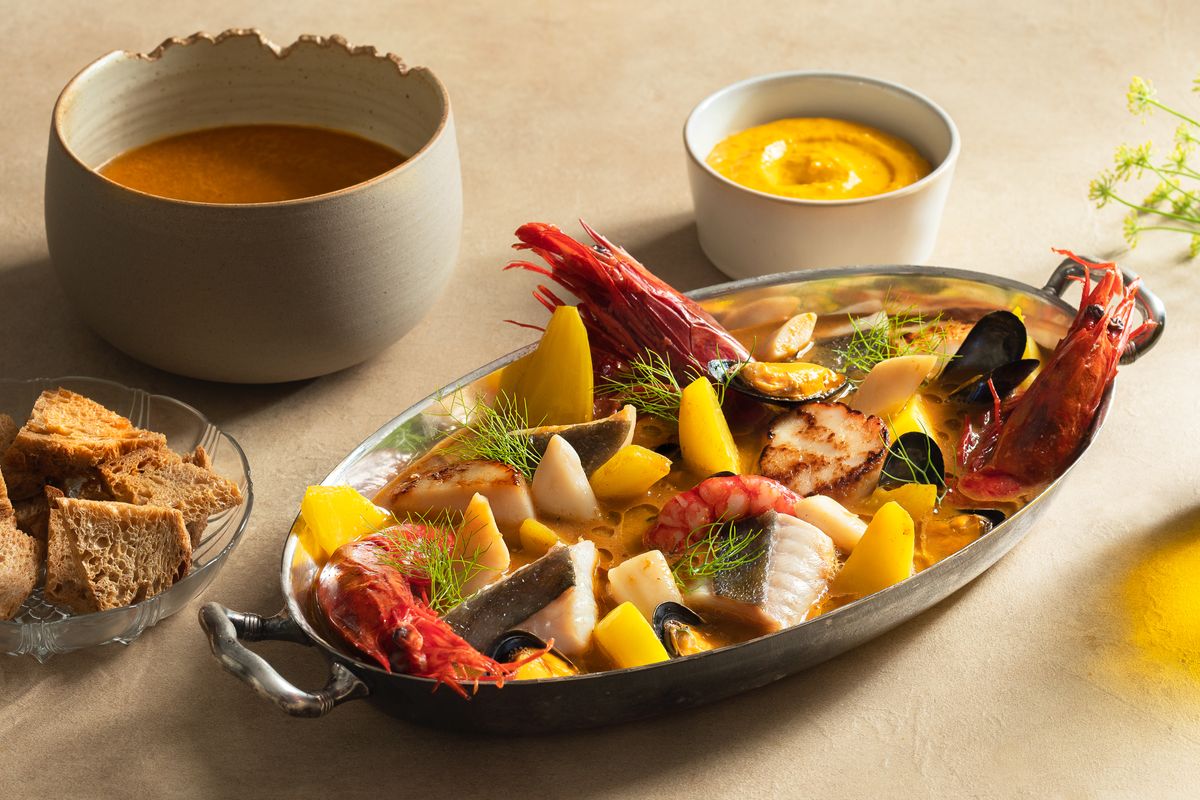 The Claudine 'Bouillabaisse'
Naturally, many of the dishes have strong familial links. He reckons that his dad would enjoy the Le Puy Lentil Salad, having hailed from the Le Puy town in Southern France famed for its green lentils; while mom would probably go for the Claudine 'Bouillabaisse', because of his hometown Auvergne's lack of access to good quality fish.
The Chou Farci, a stuffed cabbage dish of Gascon bacon, foie gras, and prune, is exactly how his mother would prepare it at home. "Except that she doesn't add foie gras, because she says it's too expensive," he reveals.
He adds: "My grandmother (Odette) showed me how to bring emotion to people through refined dishes, while my mother's food gives me a feeling of home – there was always a sense of generosity and conviviality."
The Claudine vol-au-vent
"My mom is a really, really great cook and fed us so well when we were children," gushes Royer. "Whatever she cooks is so tasty because she understands how to handle ingredients and how flavours come together. Lately, she's been feeling stressed about cooking for me, and I've had to tell her 'Mom, please never feel that way, because your cooking is the best!'"
Mom's cooking may be the best in his eyes, but it's up to Royer to bring that enigmatic quality to the recipes, to help Singaporeans experience that same sense of home and familiarity despite not having grown up eating the same type of food. To do this, he stresses, it's important to inject a "sense of place" into his cuisine. Instead of the heavy-handed use of cream, butter, and salt in many classic French recipes, for example, he opts for citrus flavors and Asian spices – like his Baba Au Rhum, which gets a lift from the use of calamansi.
"The two most important things my grandmothers and mother taught me are integrity and humility. It's about understanding where you are, and the way people eat. Food needs to have that sense of authenticity," he explains.
THE TIES THAT BIND
PULLING IT ALL TOGETHER
Pulling It All Together
With Claudine, Royer is putting his most personal self at the forefront. It's an irresistibly romantic notion for any chef, but Royer is also a business owner, and understands all too well the importance of having a viable business concept and having the right team to help him realise his vision. After all, he says, "It's the addition of great people that makes a place special".
And what an eclectic collection of backgrounds he has got running the show. Heading his kitchen are long-time friend Julien Mercier, a French national who's spent the last 15 years working in Brazil and chef de cuisine Loic Portalier, his sous chef at Louise. Singaporean Glynn Tay, who had previously worked at Marina Bay Sands for more than a decade is Claudine's general manager and oversees the care of guests experiences together with restaurant manager and hospitality veteran Antoine Capelli, who hails from Switzerland. Local pastry chef Jeanette Ow, rounding up the gang, brings a light touch to classic French desserts.
Assembling his A-team, Royer likens it to putting together a football squad – "you don't know whether you'll win or lose, but so long you believe in the same vision and goal, it's the best direction to move in". His team, as such, is made up of people who embody the same values he's been brought up with: Humility, integrity, and passion.
"When [the concept] is so personal, there is engagement, because there's a certain level of quality that I am responsible for and put my guarantee on; guests come here to experience this quality."
Finding the right staff has not been the easiest task, but he is pleased to see that interest in working in the industry is growing steadily. He cites the mysterious CFO – who, who knows, might just be working at one of Royer's restaurants someday soon – as proof of the ethereal quality of working in the kitchen, of being able to feed people and impact their psyches.
"With the pandemic, many are starting to realise how food is a universal language that brings people together," he says.
"It's a hard job, of course, but knowing you can make someone's life a bit better by helping them forget their worries, even for a while through food – that is magical."
Source Credit: This article originally appeared on Portfolio Magazine by PORTFOLIO Magazine. Read the original article - https://www.portfoliomagsg.com/article/chef-julien-royer-gets-personal.html